Summary
Bitcoin's current decline is not out of the normal and has shed only 16 days of gains.
Bitcoin's transaction fee issues will kill the currency if they are not addressed.
Lightning Network threatens to undermine the purpose of Bitcoin, may not scale, and makes the same promises we've heard before.
Despite that, I remain optimistic for blockchain technologies and for Bitcoin itself, but the system needs upgrades, and I am not convinced Lightning Network is the upgrade we need.
I welcome all feedback and comments on this article, positive and negative. If you'd like to read more from me, please click follow.
Summary and Thesis
In this article, I suggest that Bitcoin's current decline is not a reason to panic sell. It is a loss of 16 days of gains, and not a permanent crash.
However, Bitcoin's transaction fee issues remain problematic. Bitcoin (COIN, OTCQX:GBTC) is unlikely to thrive long-term while it is technologically inferior to the other large coins. Lightning Network may not offer a solution to this problem.
I suggest that investors avoid investing large sums into Bitcoin or other cryptocurrencies. However, if one wishes to invest, I suggest investing a small portion of your portfolio into a mix of the top coins rather than only in Bitcoin itself.
Bitcoin Price Correction Is Not Reason to Panic Sell
This week has been a rough one for Bitcoin.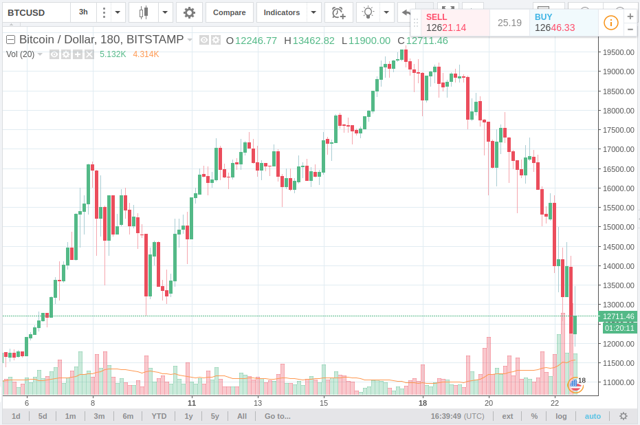 Source: Trading View
Bitcoin crashed once again, and is currently trading at $12,700. I sold the bitcoins I purchased in 2013 on December 9th, missing the highest peaks but still making a healthy 1,500% profit. I still own a small amount of Bitcoin Cash (resulting from bitcoins I owned at the time of the fork, not from an investment in Bitcoin Cash) and a small amount of Ethereum that I've held for about a year.